Startup Video Case Study – Yodeck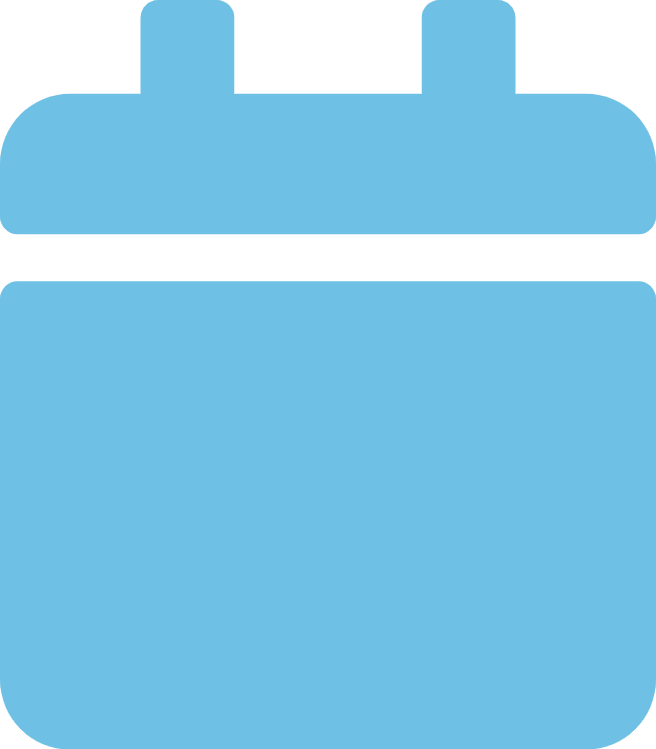 2023-05-22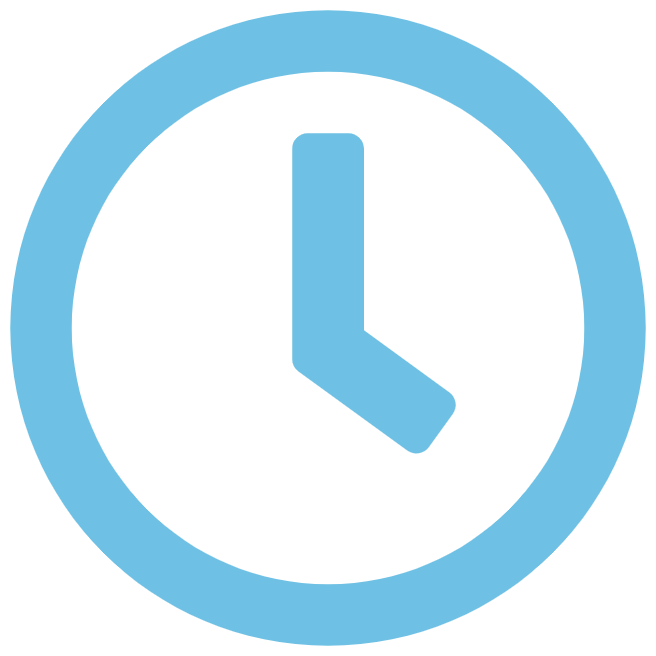 06:50:15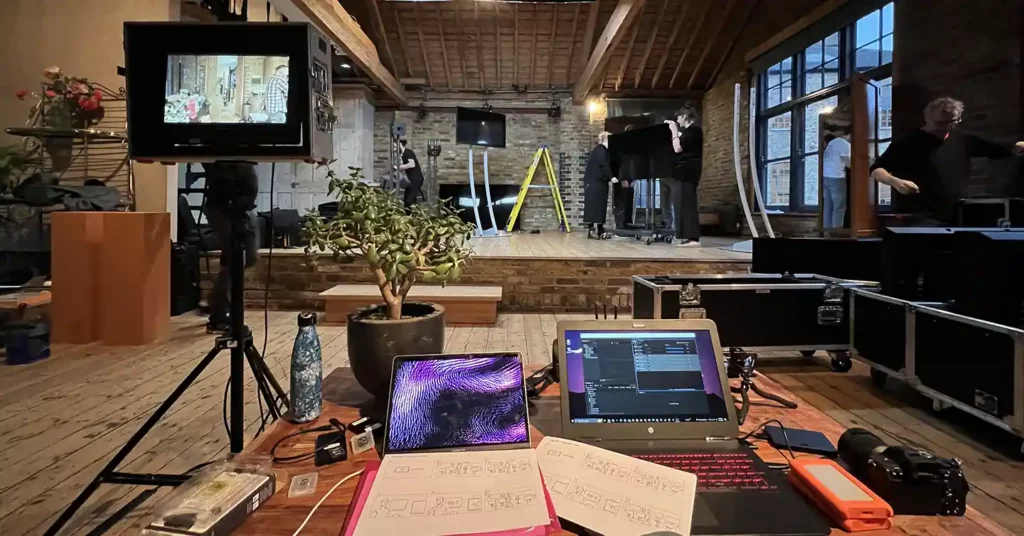 STARTUP VIDEO BACKGROUND
We've been focused on working with startups and scaleups for a number of years now. On top of that we've worked with and advised companies through accelerators. And in a couple of cases we've invested in some startups ourselves. So we feel like we start any conversation with a potential startup client in a better position than most video agencies. You can see this in some of our other work, for example our tech startup video for UK based VC backed tiney or our startup video for US based VC backed company and this for transport startup Sunswap.
Yodeck found us through our positive client testimonials on clutch.co and and asked us to pitch along with a few other companies. A pitch or two later we were appointed based largely on our willingness to really interrogate the brief. We've recently identified this tendency as one of the reasons why we win such a large proportion of repeat video production work. By asking the right questions we helped to re-define the brief and create a concept that they felt would work better. This is a similar process to that we followed with
Yodeck is a cloud-based digital signage platform. Their company mission is to bring the benefits of simple digital signage to any business. It carries a large library of pre-designed templates as well as  sophisticated tools to create, upload or amend your own. Anywhere that a screen exists within a business, then Yodeck can run your signage on it for you. Managing this process, scheduling content and making changes is simple within the Yodeck platform. These were exactly the kinds of messages we needed to get across in the films. You can judge for yourself below whether or not we were successful.
We've got mountains of experience with the more common talking heads style corporate video but this is the kind of wonderful, creative concept we love.
DEVELOPING THE STARTUP VIDEO CONCEPT FOR YODECK
As part of the initial pitch process we took Yodeck through our briefing process, interrogating their already comprehensive brief to enhance our understanding but also getting at the problems this video seeks to resolve. As part of that process we started looking at ways to build upon the approach Yodeck had already landed on. This development process ultimately led to us pitching a slightly different version of the brief back to them, with a different kind of film at the heart of their campaign. We worked together to develop this concept further and ultimately landed on something that was more fun and visually engaging.
This briefing process was particularly useful because it gave us a really clear brief and it helped all of us understand the purpose of the films and the customer problems they needed to solve. The whole process was helped greatly by having a client who really understood their audience, the product and their own brief.
We don't find storyboards are crucial to every production but in this case it was important to get everyone onto the same page. It was vital that cast, crew and client understand how the presenter would navigate around the stage and between different sections. These storyboards were turned into an animatic to give us a rough idea of the how the edit would hang together and to get a better idea of the timing.
The casting process was quite involved and with a number of different characters in the film, and a bit of freedom to play with the performances, we were blessed with the opportunity to see a lot of great actors.
We found a location that both we and the client liked. In fact it was so popular Netflix were filming next door and we decided to bring big flags to block out their stupidly big lights in case they were still filming (they said they wouldn't be but better safe than sorry).
There was a lot to get through on the day so prepration was even more absolutely vitaller than it's usual absolutely vitalness.
VIDEO PRODUCTION – MAKING THE FILM
The whole project was pretty fast turnaround and the team did a fantastic job making it happen on a tight schedule. We shot on Tuesday the 20th of December, which wasn't even our last shoot of the year. Netflix had finished but were still vacating when we arrived so we worked around their noisy crew. The moral of this story is never trust Netflix.
As well as the main film we were shooting short segments featuring each actor to create a message based on specific sectors, hospitality, retail and offices. We provided an autocue with operator to ensure we could accommodate any late changes and taken the pressure off the cast. And we lit the set in a way that required minimal changes as we went. Which was such a liberating experience having the freedom to move the camera and cast around without needing to tinker with major lighting changes all day.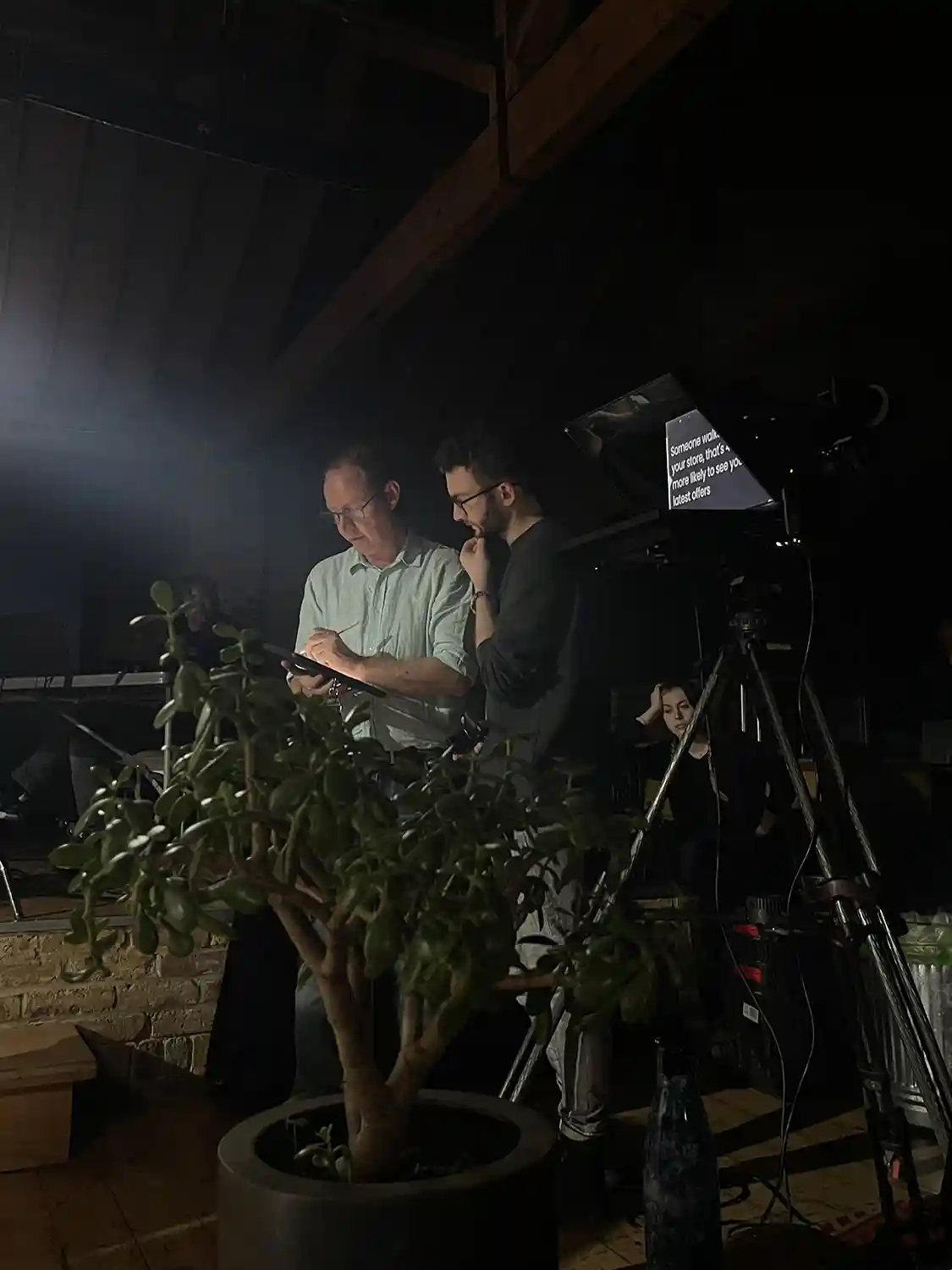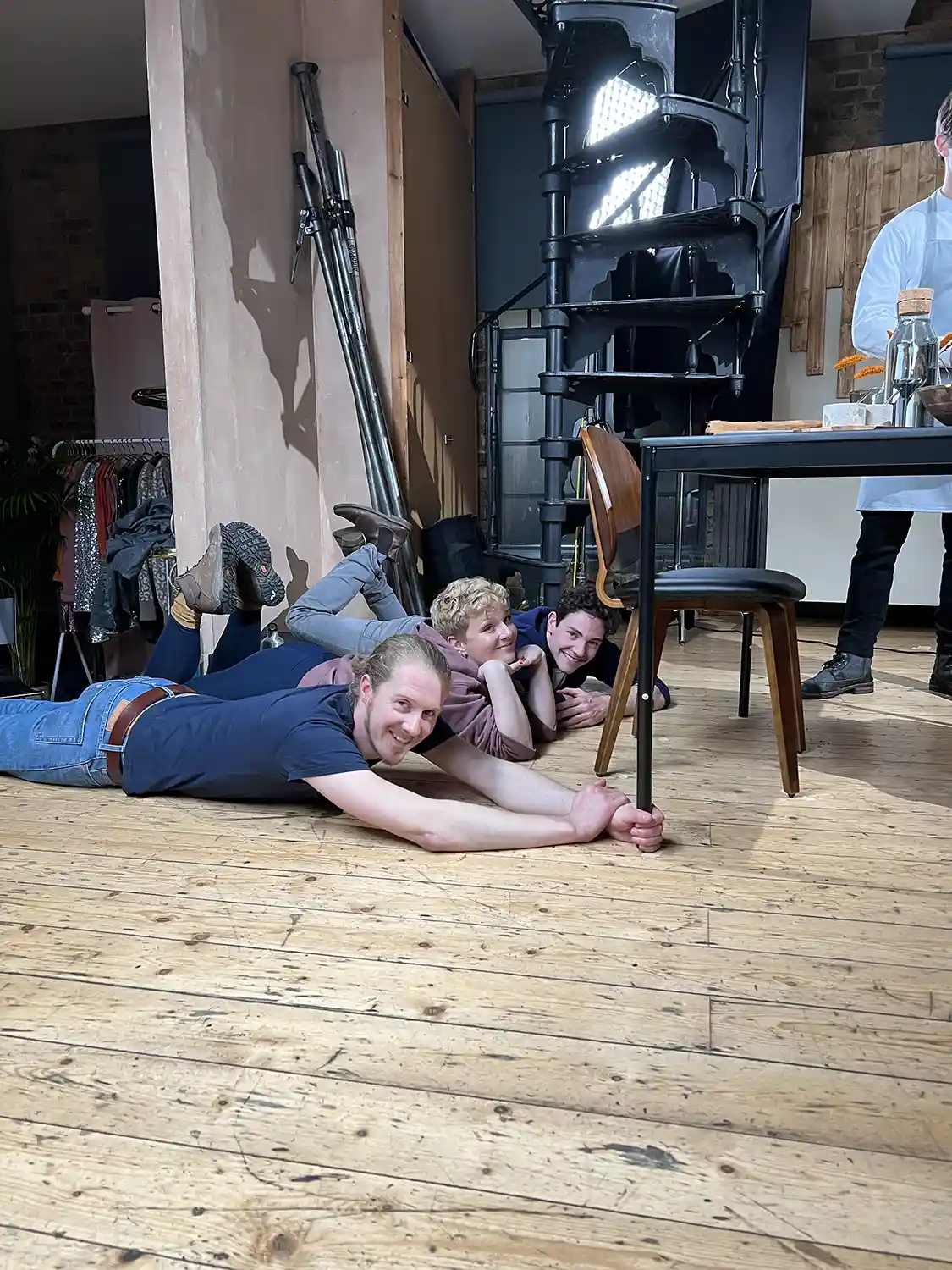 POST PRODUCTION
Post commenced almost immediately. The deadline meant that some work had to take place over the Christmas period. We had also suggested the content be filmed in a way that allowed future versions of the film to be amended easily for different markets or messages.
This one was a real team effort… we regularly collaborate when video editing, but this required a lot of fiddling in post with a variety of green screen, tracking and other filmmaking tricks required to create the finished products.
There were five key deliverables; the main startup promo film, a how to film showing potential users how simple it is to use and then one each for the different markets.
Check out the company at yodeck.com
friday goodness
THE MAILING LIST
work with us
GET IN TOUCH