PRODUCT VIDEOS FOR LUXURY GOODS
BACKGROUND ON THE BRIEF
We made these product videos for a fascinating luxury bathroom fixtures and fittings company in Digbeth, Birmingham but before we tell you the story of making those product films we wanted to share our three favourite facts about the Samuel Heath company.
The company has been making solid brassware for about 2 centuries
Casting metal often gives small bubbles and imperfections in the cast metal, so to avoid this many of Samuel Heath's pieces are milled from a single piece of metal. This also explains why they're so heavy.
BRIEF
Like a few of the more interesting films we've made recently this brief came out of the pandemic. As their traditional sales channels weren't available we were asked to create something to fill the void; 7 product films and 3 process films.
The process films were to show some of the methods Samuel Heath use in the production of their pieces. But the product films were the most intriguing part of the brief.
Some of the key points were:
Samuel Heath products are incredible, elegantly designed, finely detailed and heavy. The first time you pick one up you want to give it to someone else to see them feel how heavy it is.
The inspiration for this year's products was the best of British Design, drawing on iconic British marques, so that had to come across.
The demographics around who make buying decisions hadn't always been factored in by previous creative agencies.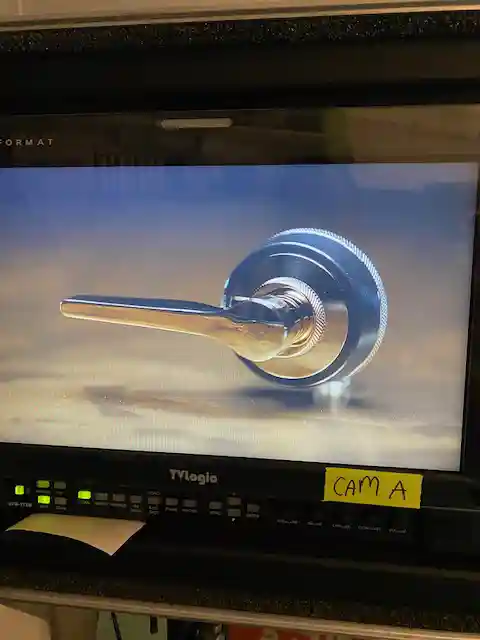 CREATING THE VIDEOS
As the products are generally milled from a single piece of solid metal we wanted to give the impression of them looming into existence pre-formed, almost like molten metal. We worked with Art Director Max Meronti to create a tank with a hydraulic lift. This kind of work is always tricky balancing a number of different factors.
The tank had to be deep enough to contain the lift, but not so deep that we were left with hundreds of gallons of the liquid medium that had to be disposed of
The lift had to be strong enough to raise the product but had to start and stop in a controlled manner
The liquid would need to be cleaned off completely between each take
Much of this brand video production work you can plan in advance but even with lots of previous experience with this kind of shoot some time needs to be factored in for the inevitable and the unexpected. Fortunately, we were able to shoot in our (old) office/studio in Birmingham's Jewellery Quarter so we had total control over the location.
One of the things we knew would be an issue and took a little experimenting with on the day was overcoming just how shiny some of these products are. Some problems need to be resolved with hours and hours of painstaking CGI work, but some can be solved by poking your lens through a massive paper backdrop. We found the latter to be both effective and cheaper and DoP Dan Hunt was a great help in working through how to make this project one of our favourites, particularly as we love working with local companies.
We won't belabour this point too much but anyone who has done close-up product video work will tell you, dust is a gigantic pain in the backside.

We used a Laowa probe lens for a few of the fine detail shots in this product video production you can see.
friday goodness
THE MAILING LIST